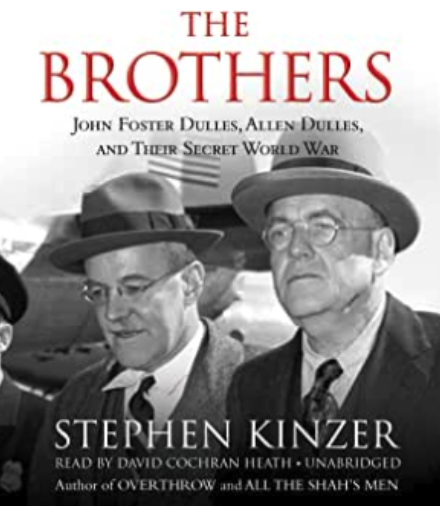 A joint biography of John Foster Dulles and Allen Dulles, who led the United States into an unseen war that decisively shaped today's world
During the 1950s, when the Cold War was at its peak, two immensely powerful brothers led the United States into a series of foreign adventures whose effects are still shaking the world.
---------- Read More ----------
John Foster Dulles was secretary of state while his brother, Allen Dulles, was director of the Central Intelligence Agency. In this book, Stephen Kinzer places their extraordinary lives against the background of American culture and history. He uses the framework of biography to ask: Why does the United States behave as it does in the world?
The Brothers explores hidden forces that shape the national psyche, from religious piety to Western movies-many of which are about a noble gunman who cleans up a lawless town by killing bad guys. This is how the Dulles brothers saw themselves, and how many Americans still see their country's role in the world.
Propelled by a quintessentially American set of fears and delusions, the Dulles brothers launched violent campaigns against foreign leaders they saw as threats to the United States. These campaigns helped push countries from Guatemala to the Congo into long spirals of violence, led the United States into the Vietnam War, and laid the foundation for decades of hostility between the United States and countries from Cuba to Iran.
The story of the Dulles brothers is the story of America. It illuminates and helps explain the modern history of the United States and the world.
---
The Brothers: John Foster Dulles, Allen Dulles, and Their Secret World War – Stephen Kinzer (March 24, 2019)     (Playlist)
TheBrothers1 Stephen Kinzer, bio of John Foster and Allen Dulles
The Brothers part 4; live chat and discussion March 27, 2019
The Brothers part 5, by Stephen Kinzer. Audio boosted.
Commodore Maury, NGO, McDuff' and The Brothers Part 6, Mar 28th, 2019
MacArthur, Lansdale and the Dulles Brothers 
Black Propaganda, Phoenix, and The Brothers part 7
McDuff, Gen. Blackburn, MacArthur, and Part 8 of The Brothers, by Stephen Kinzer
The Brothers by Stephen Kinzer, part 9
Niebuhr, Rand Corp., Dynamic vs Static societies, and Part 10 of The Brothers by S. Kinzer.
Scopolamine, 'Twilight Sleep,' and Dulles Brothers part 11
The TVA, Manhattan Project and The Brothers, Part 12
WR Grace, Otto Ambros, Knights of Malta and Part 13 of The Brothers by Stephen Kinzer 040919
Progressives, Henry Wallace, Rocky Flats history and The Brothers, part 14, Apr 10th, 2019
Baron von Steuben, Henry Wallace's Hi-bred seeds and GMO's, Dupont, and The Brothers part 15
The time I met George Webb, and The Brothers, part 16
Bissell, Georgetown, and me; The Brothers part 18
Dulles Brothers Part 19, reading and comments 041819
The Brothers part 20, Grandma's song, and Billy Cotter; April 19 in history
The Brothers, part 21 reading and comments
TheBrothers part 22, reading and comments, Live Chat after reading.
Live chat with George Webb, Butina trial, and The Brothers by Kinzer, part 23
McDuff's Book Club: The Brothers part 24 and comments
Book Club: Reading and comments, The Brothers part 25
Live Chat with George Webb, and The Brothers part 26
Venezuela, Dulles, McDuff, and reading and comments, The Brothers, part 27
McDuff, Loomis, and The Brothers, part 28
AIC (American International Corporation), Birl Earl Shultz, 120 Broadway, and the Bolsheviks
Reading and Comments: The Brothers part 29
Castro and Dulles:The Brothers part 30 live reading and chat