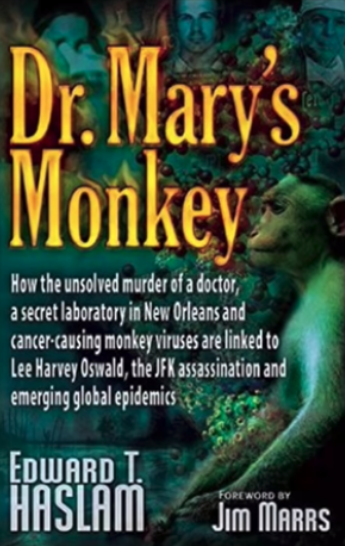 New pages include documents from the FBI, CIA, CDC, and NOPD, plus the actual crime scene photos from the 1964 murder of Dr. Mary Sherman. The bizarre death of this nationally known cancer researcher sets the stage for this gripping exposé of medical professionals enmeshed in covert government operations.
---------- Read More ----------
Following a trail of police reports, FBI files, cancer statistics, and medical journals, this revealing book presents a web of secret-keeping which swept doctors into cover-ups of contaminated polio vaccines, cancer outbreaks, the arrival of the AIDS virus, and a deadly biological weapon tested on both monkeys and humans. Add Lee Harvey Oswald to the cast of this secret bio-weapon project, and this dark tale connects Oswald's summer of secrets to the intrigue surrounding the assassination of President Kennedy.
---
The videos associated with links below have been censored by YouTube. Watch the following 1 hour Summary Book Review.
Dr. Mary's Monkey – Edward T. Haslam (Playlist). (Reading began September 21, 2019)
Dr. Mary's Monkey, by Ed Haslam, part 1: Unsolved Murder
Dr. Mary's Monkey, part 2: The Pirate and the Monkeys
Dr. Mary's Monkey, part 3: "Monkey Business; Enter the CIA"
Dr, Mary's Monkey, part 4:"How Could They Induce Cancer?"
Dr. Mary's Monkey, part 5: David Ferrie and Dr. Mary
Dr. Mary's Monkey, part 6: "Ferrie, Jesuits and the CIA"
Dr,. Mary's Monkey, part 7: "Ferrie's Little Lab"
Dr. Mary's Monkey, part 8: "A Damn Fine Woman"
Dr. Mary's Monkey, part 9:"Oswald and Dr. O"
Dr. Mary' Monkey, part 10: "Sensitive Position," Ochsner, Cuba, and Nixon
Dr. Mary's Monkey part 12: "An Ongoing Cancer Epidemic"
Dr. Mary's Monkey part 13: "The Fire"
Dr. Mary's Monkey part 14: "The Machine"
Dr. Mary's Monkey, part 15: "A Medical Manhattan Project" 101419
Dr. Mary's Monkey, part 16: "AIDS, that Other Epidemic"
Dr. Mary's Monkey part 17: "A Biological Weapon"
Dr. Mary's Monkey, part 18: "Murdered within a Week" (late start, 9pm EDT)