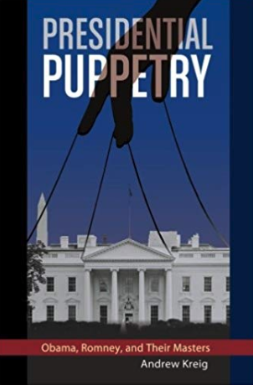 Presidential Puppetry documents what many millions have long suspected: secretive elites guide our government leaders.
----------- Read More -----------
The first book to analyze the Obama second term is also one of the first to examine the 2012 elections. Puppetry reveals scandals and shows why Congress, courts, and other watchdog institutions fail to report key facts about even the biggest news makers.
Puppetry unfolds like a mystery extending over decades to the present.
By the end, this compelling narrative documented with 1,200 endnotes shows hidden links between puppet masters, political leaders, spy agencies, and the economic austerity now being imposed on a hapless public. By exposing key secrets, it provides a roadmap for reform.
---
The videos associated with the links below have been censored by YouTube. Follow this link to view a Summary Book Review.
Presidential Puppetry: Obama, Romney and Their Masters – Andrew Kreig (Playlist) (Reading began October 14, 2019)
"Presidential Puppetry," with Andrew Kreig, author, 8pm EDT
"Presidential Puppetry," with author Andrew Kreig, part 2, live discussion at 8pm EDT
"Presidential Puppetry" part 3: "Rockefellers, Rothschilds and Friends"
'Presidential Puppetry," Chapter 7; Prescott Bush (reading and comments)
Presidential Puppetry, Chapter 8: "George HW Bush"
Presidential Puppetry, part 4 with Andrew Kreig
Presidential Puppetry, "Rove and Petraeus" (chapters 10-11)
Live with Andrew Kreig, author of "Presidential Puppetry"
Presidential Puppetry, ch. 12 "Mormon Mafia?'- reading and comments
Presidential Puppetry, Ch. 13: "Big Brother, Romney and Bush"
Presidential Puppetry, Ch. 13, "Big Brother, part 2"
"The Election Theft Racket"- Presidential Puppetry Ch. 14. 10am EDT
Live with Andrew Kreig at 8pm edt
"Barack Obama, President as Performer". Ch. 19, Presidential Puppetry
Barack Obama, part 2, "Presidential Puppetry" Ch. 19, reading and comments
"Petraeus Betrayus?" Presidential Puppetry, Ch. 20
Presidential Puppetry, Ch. 21: Obama's Second Term
Presidential Puppetry Ch. 21 pt. 2: "Keeping it Classy"
'Why Puppet Masters Need Presidents," Presidential Puppetry ch. 21 pt. 3
Presidential Puppetry, ch 21 pt 4: "Obama, Amazon, and the Spooks"
Presidential Puppetry, ch. 22 (end): "Next Steps"
Andrew Kreig, live chat at 8pm: "Puppetry Predictions, 2020"