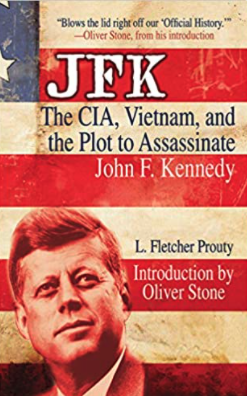 With an Introduction by Oliver Stone, the director of the hit movie JFK and a Foreword by Jesse Ventura, author of the New York Times Bestseller, They Killed our President, here is an insider's view of JFK, the CIA, Vietnam and the plot that led to the assassination of President John F. Kennedy.
---------- Read more ----------
Colonel L. Fletcher Prouty, the former CIA operative known as "X," offers a history-shaking perspective on the assassination of president John F. Kennedy. His theories were the basis for Oliver Stone's controversial movie JFK.
Prouty believed that Kennedy's death was a coup d'état, and he backs this belief up with his knowledge of the security arrangements at Dallas and other tidbits that only a CIA insider would know (for example, that every member of Kennedy's cabinet was abroad at the time of Kennedy's assassination). His discussion of the elite power base he believes controlled the U.S. government will scare and enlighten anyone who wants to know who was really behind the assassination of John F. Kennedy.
This is must reading for anyone who believes that Lee Harvey Oswald did not act along and that a complicated plot led to the murder of President Kennedy. Summary from Amazon
---
YouTube censored the videos link below. Thanks to a loyal follower, you can access the newly archived videos on this PlayList.
JFK: The CIA, Vietnam, and the Plot to Assassinate John F. Kennedy by L. Fletcher Prouty (Playlist). (Started on July 3, 2020)
JFK, by Fletcher Prouty, part 1
JFK, by Fletcher Prouty, part 2
JFK by Fletcher Prouty, part 3
JFK by Fletcher Prouty, part 4
JFK by Fletcher Prouty, part 5
JFK by Fletcher Prouty, part 6: "Circumventing the President"
JFK by Fletcher Prouty, part 7: "The CIA in Camelot"
JFK by Fletcher Prouty, part 8: The U-2 , Lansdale and the CIA
JFK by Fletcher Prouty, part 9: "1000 Days to Dallas"
JFK by Fletcher Prouty, part 10: "Whiz Kids"
JFK by Fletcher Prouty, part 11: "JFK vs. The CIA"
JFK by Fletcher Prouty, part 12: "The Power Struggle Continues"
JFK by Fletcher Prouty, part 13: "Building to Final Confrontation"
JFK by Fletcher Prouty, part 14: "JFK Makes his Move to Control the CIA"
JFK by Fletcher Prouty, part 15: "Iron Mountain and the Rights of Man"
JFK by Fletcher Prouty, part 16: "Foreign Aid is Corporate Welfare"
JFK by Fletcher Prouty, part 17: "Foreign Aid is Corporate Welfare"
JFK by Fletcher Prouty, part 18: "JFK's Plan to End the War"
JFK, by Fletcher Prouty, part 19: "Gen. Victor Krulak meets McDuff"
JFK, by Fletcher Prouty, part 20: "The Stage is Set for Death"
JFK by Fletcher Prouty, part 21:"A Strange Invitation"
JFK, by Fletcher Prouty, part 22: "Dallas"
JFK by Fletcher Prouty, part 23: "Lyndon and Edgar"
JFK by Fletcher Prouty, part 24: "The Guns Of Dallas"
JFK by Fletcher Prouty, part 25: "LBJ Takes the Helm"
JFK by Fletcher Prouty, part 26: "Game Plan of the High Cabal"